"Sometimes, reaching out and taking someone's hand is the beginning of a journey.
At other times, it is allowing another to take yours". Vera Nazarian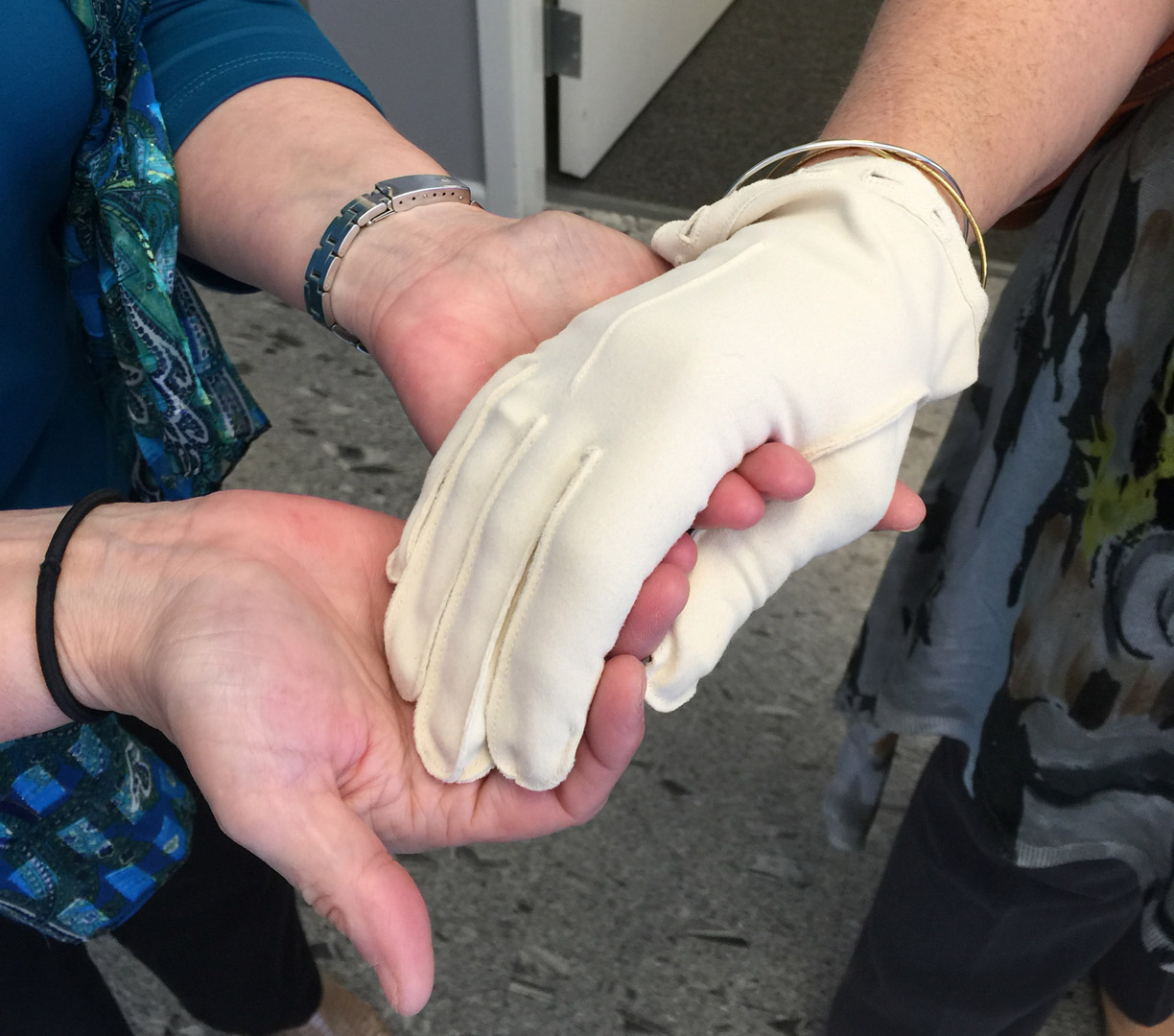 With a full heart, my dreams, goals and plans bubbled forth as we shared a Starbucks tea. "Stop, enough goose bumps already", she said. Leaning in she asked, "Do you have a woman's advisory board yet?". My scrunched up eyes were begging questions she saw and instantly asked, "You need one. Can I help you with this?"
After a few tears of wonder, many emails and phone calls later, the board's charter members and I sat at my bank's conference room. She chaired the meeting that day and before we began she breathed out a story she had just experienced with a loved one . . .
The bin of gloves lay tucked away on the closet shelf. Hidden. Waiting. At any unknown moment her tiny hand would sneak it out and her fingers would slip into one of the many pairs. Tenderly caressing her hands, saying I love you, you are beautiful, you are mine. The warmth of each glove meeting the need to be held, touched, loved. Holding her hands while she twirled, smiled, giggled. Treasuring each moment till her cup was full again . . .
I think we all choked up, I know I did. I looked at her. We both knew. She was my glove. She had freely offered to hold my hand in this entrepreneurial journey that lay ahead of me. Other than being a mom, this was my biggest journey ever. She nodded, she would hold my hand for as long as I needed her to.
I slip on the gloves the days I get scared, wonder what on earth I'm thinking . . .
Yes, she gave me a pair from that box. They're used to holding hands, comforting – taking the journey together. God's earthly touches for heavenly work. Sending the right person at the perfect time.
The vision is real and as I daily commit each next-step to God's unfolding magnificent plan, the journey unfolds. Expands. Becomes clear.
August 14 we have a kick-off HOPE Rally downtown Savannah and Monday August 15, we head out on a 21-day walk. I will walk from Savannah, GA to Sarasota, FL approximately 6-10 miles a day. Media and Time Management Consultant, Kathy Burnsed will travel along by car and Raelynne Wessels, by bicycle. I will be sharing HOPE by giving free life coaching phone calls as I walk.
We will be sharing HOPE Dolls, visiting homeless shelters, community centers, hospitals and speaking to many diverse groups of women (and some amazing men) during the walk. We will share how HOPE can be spread and encourage positive actions to help facilitate personal and community change.
We are also raising funds for the Place of Story while building this Platform where we all can support one another through our stories of HOPE.
Perhaps you will allow me to hold your hand as you journey forward.
Lost HOPE in some area of your life? A relationship? Financially? Work troubling you? Not sure of your purpose or call? Bored? Depressed?
Connect with us to schedule a free coaching call while I walk. Perhaps you want to share your story to encourage someone else. Perhaps you want to donate and facilitate holding hands with those we serve and will yet serve.
CONNECT with us:
FILL OUT the HOPE SURVEY:
https://www.surveymonkey.com/r/FDYK77T
DONATE at:
https://www.gofundme.com/emrasmith
Thank you for holding hands and sharing HOPE – One Story at a Time.